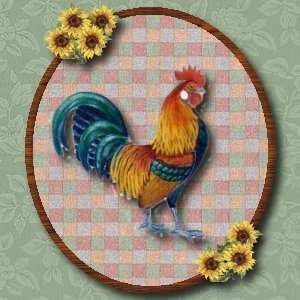 Thanks to Judys Jems for the graphics today.
For anyone that is wondering..we have decided not to get the NiteGuards. I just dont think it will last...the predators will figure it out eventually.

Ian says I am giving the predators more credit than I should that they have caught on to the recipe in the pans gig.
I am not so sure. With the pans out...they still found that penciled rock and took her instead of the easy meal.
Now comes the part of being smarter than what you are dealing with.
I had one dead chicken...hollowed out, with no head. I got to thinking...they want chicken...okay, lets give them chicken.
I stuffed that birds hollow inside FULL of the recipe...laid it out at dark by the back of the fence where they are coming and going. Laid out the pans anyway.
After putting up the birds of course.
Then we went to Walmart..got our groceries and our gun.
We got back, put up groceries, put the gun together...Ian showing me how to load and unload, how to hold it proper..
Then he needed to get on to bed. I put on my coat and shoes and went out with the flashlight to see if my predators had taken away the stuffed chicken body.
OH YES...it was gone, they had taken it back to their den...GOOOOD...let them all have some.

In a little while I have to run a few errands...on my trip out I am going to pick up some of those little cornish hens...and stuff one...put it out tonight...yes, let them come. Got to be smarter than what your dealing with.