Here are the last pictures from the Poultry show...first up is a Bantam Gold Neck D'Uccle...
Next is a Bantam Porcelain D'Uccle....I think thats what he is...
This here below is a Bantam Cochin roo...
Next is a Standard sized Silver Spangled Hamburg rooster...he is like my Everett...Everett is a SSH, but still so young and not filled out like this handsome man.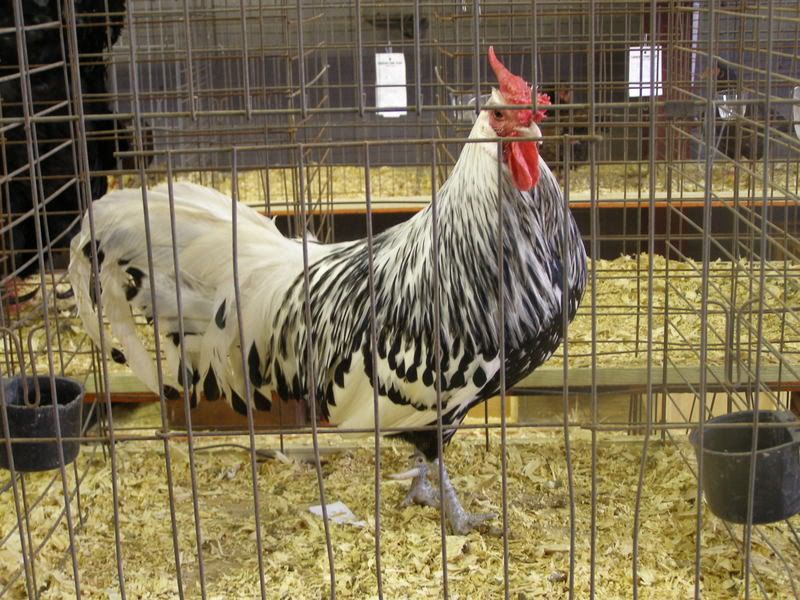 and last but not least was my personal favorite that was there...after the show his owner was packing up and I told him what a stunning beautiful bird he had. I asked if I could hold him, and he said,
"Of course, and he is very tame."
I hugged on him, snuggled him...oh how I wanted him...he was soooo sweet! I know the second shot is of his rear, but I wanted you to see how long those tail feathers are...they were sticking through the top of the pen!
This is where I get my love for the Serama..you see...Seramas are a mixed breed, one of the breeds in the mix is the Japanese Bantam.
Well, thats it...I hope you liked the pictures of some of my favorites from the show. :)
*********************
Ian is going to a new schedule for a while. He will be working longer hours during the week...and taking whole weekends off. I am very happy about this because now Friday actually means something around here! It means the start of a whole weekend together. Soon we will be spending our weekends gardening. Him moreso than me...I am not very good at it. I stick to growing tomatoes. I did can and freeze a whole bunch of stuff he grew last year...we still have squash from last year in the freezer, and about four jars of pickles left. I personally like to grow tomatoes. So that is what I do...tomatoes and chickens. :)
I hope everyone has a wonderful weekend and I hope it is going to be warm and sunny wherever you are!
With the great weather I am sure to have some video and pictures from the weekend to share come Monday. See y'all then. :)