Ahhhh yes..I got out this morning after posting.
First I did decide to go over to the new Walmart...had them try one picture in particular that was especially messed up...and their system did the same thing. So that didn't work. They have a do it yourself machine. So I tried that picture, but when it says you can crop it, that just means you can move the stupid little square barrier up or down on the picture...so you will still either cut off some of the bottom or some of the top, your choice. So that was a bust.
Hopped back in the truck and headed for Rome. First stop was Barnes and Noble. Have to get Shelbys Curriculum book for schooling. I have always gone to the B and N down south near my Mama and Daddys house, guess I will be going there Saturday night after we visit with Kenny and his family. They had this little bitty corner of lame booklets for home education...I asked an employee "Where are all the homeschool workbooks?" and she replied..."This is what we have." I just looked at the pathetic little short rows and sighed. Okay...so that was a bust too.
Next I was off to Sallys Beauty Supply for hair color. Well you can't very well expect me to go to this shindig on Saturday looking like I came straight from the trailer park with half my head a dark brown and the latter half blonde can you??? LOL! Shelbys hair needs frosting too...so I got what was needed to make us look presentable.
Then it was off to Home Depot. The pigs house looks like the big bad wolf has come a callin and tried to blow in their roof, or at least stomped on it a lot. The middle is sagging and that makes all the rainwater run right off to the entrance of their little house. Ian suggested currogated tin roofing...with braces underneath running across the dwelling. Okay, that makes good sense. So I got me a couple of sheets at eight and a half dollars a piece, very reasonable. I will use the old boards that Ian took off when he redid the stairs on the front of the house for bracing. Also had to get a couple of bales of wheat straw...poor piggies are swimming in mud after all the rain we have had. They may like it in a nice muddy puddle, but not the whole pen! So they get to get out today and roam around while I fix their house and pen up nice and comfy for them. All animals here have to be comfortable or it preys on my mind.
So, I am off to do some muddy outdoor slopping around. Got to get my slop boots on for this job!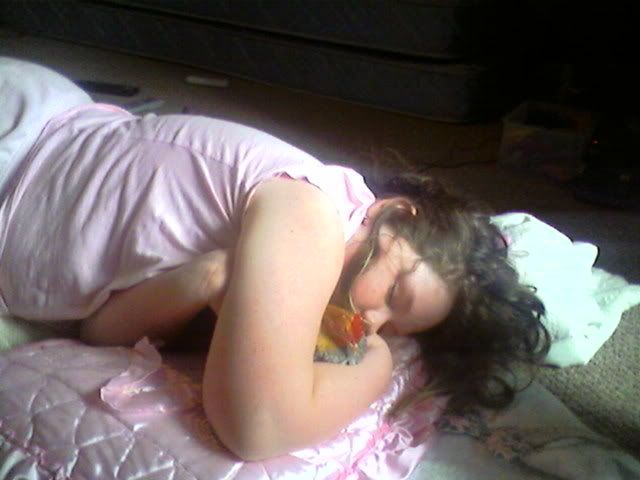 This is how quickly Phoenix took to us. Thought I would share an old picture of Shelby and him fast asleep. We had only had him a couple of days and I found them both fast asleep up in her playroom on the floor. Ain't they sweet?