Now then. I will settle down and tell you how I came to have these little lovely birds.
Ian had a four day weekend, so we have spent a lot of quality time together over those four days. I was sad to see him go back to work this morning. I know it is necessary though.
Now, y'all know, that Ian has said...no more animals. We have all we can afford. After we came home with the emu chicks he told me,
NO, You cannot have a BUFFALO!
This was an exaggeration of course. He was just making his point, making sure I knew what he was saying. ;)
A year and a half or so ago I got it in my head that I wanted peafowl. The search really put a damper on things when I saw the prices in the Market Bulletin. That is a free farmers bulletin newspaper that is put out in Georgia. The couple of times I went to Collinsville, Alabama to the big flea market there I was even more shocked at the prices people wanted.
So I told myself I would just have to just sit back and watch and wait. The opportunity would come eventually, one day. I would just have to be patient.
That day came Sunday. The MarketBulletin comes out every other Wednesday. Most of the time I will check it online because mine never comes in the mail on time. I didnt get mine til Friday. Seeing as we had company Sunday and I was preparing for that company on Saturday I never got a chance to sit down and look at the online version or the real paper.
Sunday afternoon after our company left (I will tell about that in another entry, tomorrow.) we were sitting around and I picked up my little newspaper and started to look at it.
THERE IT WAS!
This is what the ad read...
'08 Indian Blues and white Peacocks for sale, $25 to $35 ea. Tim White Blue Ridge
I called the phone number listed with the ad, not really getting my hopes up because I was sure the birds had to be all gone by now.
Thankfully...I was wrong. They had about fourteen left. I wanted to get the youngest ones. I have learned with any animal that if you can get them as young as possible, your chances of taming them down are much better. I always want my animals to come running when they see me, not run away from me.
Sometimes this wish coming true is overwhelming...but it is a good overwhelming to have to do the foot shuffle into the gate to keep from stepping on chicken toes. I also have to keep the emu faces and necks at bay as they are looking to see if I might have goodies in my hand, but you better believe everyone comes running, and I love that. :)
SO I got off track, sorry about that.
Of course before I called the folks I did discuss it with Ian. He knows this is really an exception to the no more animals rule. He told me to give them a call and see what they had.
We set up to go Monday up to Blue Ridge. It is said to be beautiful there. Neither of us had ever been. We figured the ride up would be really nice and relaxing. Ian drove so I could take pictures. He says I drive to slow anyway. If I don't know the roads sometimes I do tend to GO THE SPEED LIMIT! Okay, sometimes a little tiny bit below the speed limit. We had a really nice ride up. It was cloudy at first and still a bit hazy when the clouds started to clear, but here are a few pictures from the ride up.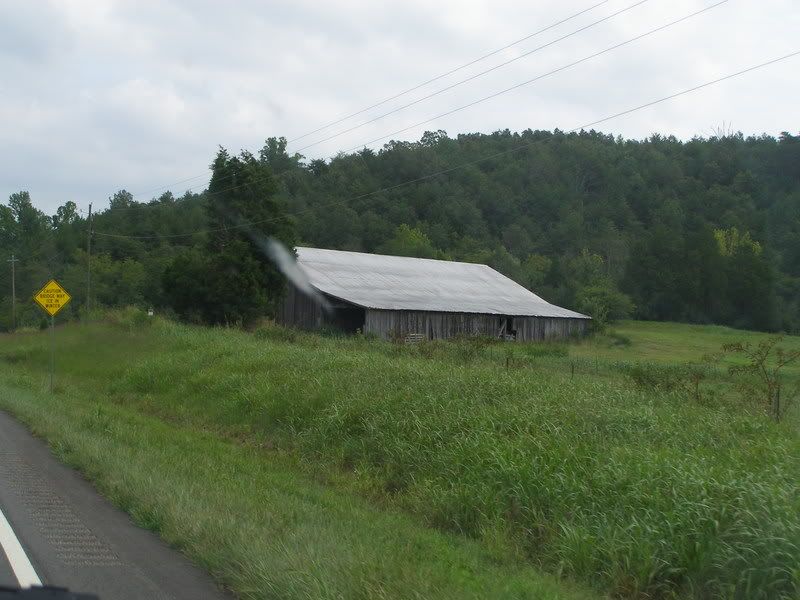 I love old barns.
It took us about two hours to get to their house. The last stretch of road before we turned onto their road was called Old Hwy 2. It was really squirrely! I mean talk about your back and forth weaving...curving left and right, left and right...I was getting woozy! We made it without me losing my breakfast onto the truck floor, thank goodness.
Now is the time of year everyone is molting. My chickens are molting too. I wanted to take a few pictures and he said that this was not their best look right now as they were molting, but to go ahead if I wanted to. I told him it didnt matter to me, that they were all beautiful to me. Most of the adults headed up into the wooded area behind the breeding and grow pen area but I did manage to get a picture of this one white male. It was hard to take pictures through the wire. The camera sometimes wanted to focus on the wire instead of the birds, but here are the ones I took of the older chicks. These are four months old. They were the ones that were thirty five dollars. The lady also gave me a list of medications to use for them in their water and what to feed them along with a magazine to look over and keep. They were really friendly nice folks. I find that a lot when dealing with other folks that share a passion for any fowl.
Ian had to take the last picture as I was too short to see what I was taking a picture of. He is 6' 4" as opposed to my 5'4". This is a peahen sitting on three eggs. They like to nest in these nesting boxes the man had set up. The like to nest high.
I don't think things could be any better for me right now. I really do have it all now. :)
Well..except for maybe a buffalo...but maybe Lisa over on Life on a Bison Farm can help me with that? ;) Just kidding. I promise, no buffalo.