Yesterday I drug the plastic baby pool John and Christi gave us for the emus to use since their dogs never seemed interested in using it to cool off.
Emus LOVE water when they are hot. I hose them down while they lay on the ground and flop around. I have a large plastic livestock waterer, feeder, whatever you want to call it. Only one emu at a time can fit in this, so the pool ought to be a lot of fun for three at once.
Here it sits...I filled it up...without any interest shown by the emus. Once it did catch their eye, they were curious, but very leery of it. I don't know why. So I dragged over their usual big pan and set it right next to the pool and filled it up, hoping this would encourage them to check things out more closely. Nope, that big yellow thing might get me they seemed to say. Last night I caught all three walking round and round the pool, cautiously dipping their beaks in it for a sip of water. I hope today at the warmest part of the day they will get in and I can catch them in it and take some pictures.
In the meantime...here sits the emu pool, empty for now.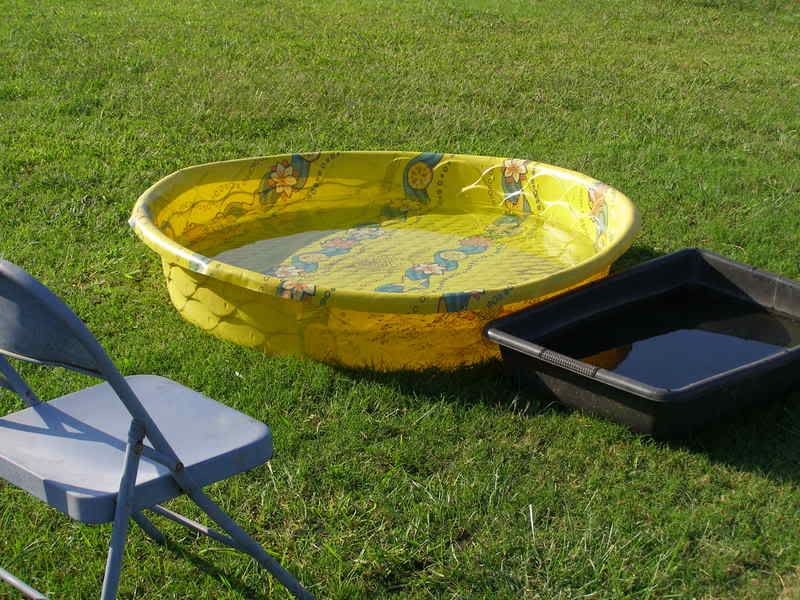 Some pictures of the fraidy bunch...lol.
I never could get all three in the pictures at once, but I promise, I do have three. ;)