So this is payback for me not taking the donkey I guess. One way or another someone wants me to rescue another animal. What am I talking about you ask? Well let me tell you the story.
I went outside yesterday morning like I always do. I fed the goats, fed the emus, fed the pigs, fed the chickens and chicks. Filled waterers, all the usual things I do. When I was finished I came in oh I would say about 8 a.m.
I sat down for a cup of coffee and to rest a few minutes. Tim has gone down again, by the way. I have him in the house in a laundry basket doctoring him back to health again. He is getting better, again. So I was giving him his medicine and tending to his needs when I hear Phoenix start the alarm. Then Johnny chimed in..that got the Serama started too...NOW WHAT I asked.
I got up off the floor where I was sitting with Tim and took a peek out the back door. That Jack Russell Terrier dog from the neighbors was over on my property again. It was running along the same fenceline the fox were coming from, over by the wheat field.
The emus were all over at the fence, Boo was especially flared up and they were all showing that dog how big and bad they were and trying to scare it off. They made the dog nervous but it knew there was a fence between it. I am pretty sure given the chance they could stomp that dog into a pile of unrecognizable minced meat with those sharp toes and strong feet and legs. I reach for the BB gun so I can pop the dog and send it on its way home. I turn back towards the door and there is an added equation to this commotion.
Now I know why the dog was over here. Limping across Derbys drylot area was a teeny tiny kitten. It was going into dangerous territory though. It was crossing through the fence between Derbys lot and the open back area. The emus attention was drawn to this and they ran at the poor kitten. The kitten ran and stopped, ran and stopped. I was wrestling with the stupid horse while trying to get out of the gate. He thinks anytime that gate opens its time to go out and eat pasture, so I was shoving him back while trying to get out there to rescue the kitten all the while I hear theemus hissing and see them trying to stomp the kitten. There were a couple of successful hits before I could get there.
Terrified, balled up as small as it could get on its side, hissing...was this little kitten that had a very bad morning. I stood between the emus and the kitten and made the emus back away. Once I was there they stopped attacking, thank goodness. I picked up the kitten by the scruff of the neck to relax it. Most folks know thats how a mother cat carries her kittens and this immediately relaxes the kitten. It worked and I was able to get the poor thing up to the house. The fear in those poor little eyes melted my heart. What cruel human had done this? The kitten had not been out there long at all. No fleas, no ear mites. Completely clean. Didn't even smell like it had been outside, it had that kitten smell.
I brought it into the porch. Got some water and cat food. Poor thing was so thirsty. It drank and drank, then drank some more. Its left rear leg was hurt. It wouldn't bear any weight on it. I took a good look and there was nothing broken so I left the leg alone thinking it would be okay, and later on it was. Today the kitten is using the leg almost fully.
Now let me tell you something about me. I have had cats for a long time. Ian loves cats. We have always had cats, up until our last cat died about six months ago. She was 18 years old. It was her time.
Finally, I was going to be able to get a new couch. So we got one, I have shown pictures of it on here.
I dont care how good a cat is, they claw stuff. So...we agreed no more cats for us. We had had our share over the years and agreed no more cats. Mostly upon my OWN insistance! I am not a cat person. I am a dog person, I am a chicken person.
The last kitten that got thrown out here was immediately picked up by the Polk County animal control the next day. It pulled no heartstrings with me. I was not interested in a kitten, no way no how.
This time...sigh...is different. So I reserved the right to think about it, and make my decision Monday.
Its Friday...and well...I guess its pretty much a done deal. So my no cats rule has been revised.
We will go with no INDOOR cat, how about that. I will make a cat door so when the kitten gets older it can come and go from the screen porch. That will be its living quarters and it can be my mouser. I need a mouser anyway. We do have mice. If you have chickens and chicken feed, your going to have mice.
So its a trip to the vet soon, shots, a check up, Frontline and a collar with her tags. I reckon I will go ahead and get the chip put in too like we did with Tip.
Why on earth did this happen to me? I don't even like cats! This one got me. Am I weak? A pushover? A sucker? I guess if you get caught under the right (or wrong, depending on how you look at it) curcumstances and I rescue you from getting killed by dogs and emus, I feel sorry for you...but it helps to have a gracious attitude and a very sweet disposition...not to mention being a beautiful kitten.
We have named him/her Mocha. As in Mocha Latte'. You will see why when you see the kittens color. I believe it may be calico of a sort, so it is probably a girl. Either way, soon as we can she he will be spayed or neutered. I imagine the vet will want to get the shots and whatnot done first, then on a second visit get her fixed.
Tip met her this morning. Do you know Mocha wasnt scared of her at all? Tip was very sweet and wasnt scary to her at all. So now Tip knows we have a kitten. I want Tip to know she is ours and not to be chasing her.
Shelby took this picture of her yesterday. I will take more later and post them.
Oh yeah, we got one of those kitty cube beds last night at Walmart. I put her in it last night and she didnt come back out, she layed down and went right to sleep all night in it. :)
Got her the good food, same brand as I get Tip..got her a waterer bowl, food bowl combo, and a pack of toys of course. Litter box and litter are set out there too until she isbigger and we have a door set up for her to go out as she pleases.
I am such a SAP...lol.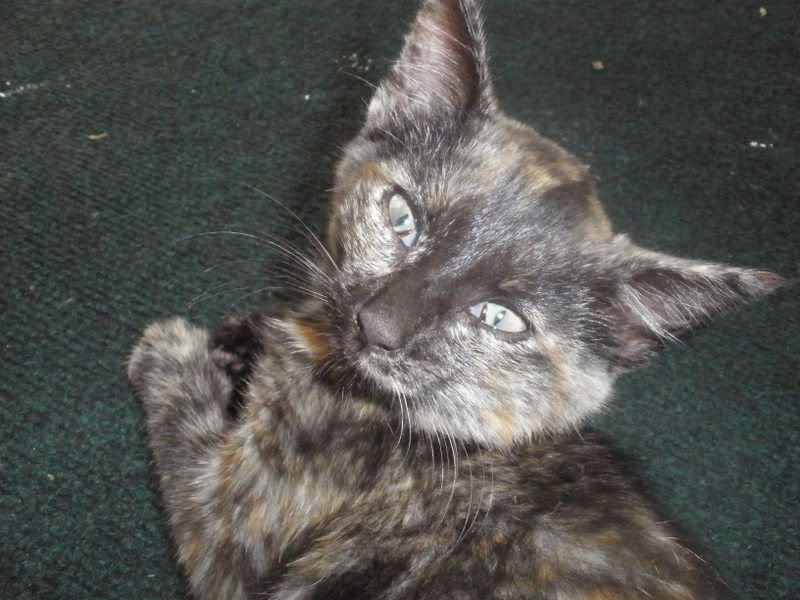 Adding this on this afternoon:
After looking at a lot of cat pictures I think Mocha is more of a tortoiseshell than calico, though I read they are in the same family.