Having goats...is a challenge at times. You don't have to necessarily be smarter than what you are dealing with...but rather, more STUBBORN.
You may remember the video a little bit back where I mentioned the little access gate I made attached to the main chicken pen gate that I made to keep out the goats and emus.
The reason I don't want them in there is because I feed the chickens their food in the pen. The goats and emus get their food seperate. The emus are not really a problem. The goats however must be kin to the pigs, because even though they have a pasture full of bermuda grass out back to munch on, they prefer to seek out the chicken feed.
So...here we have the pretty little access gate after the goats decided they had to be in the chicken pen.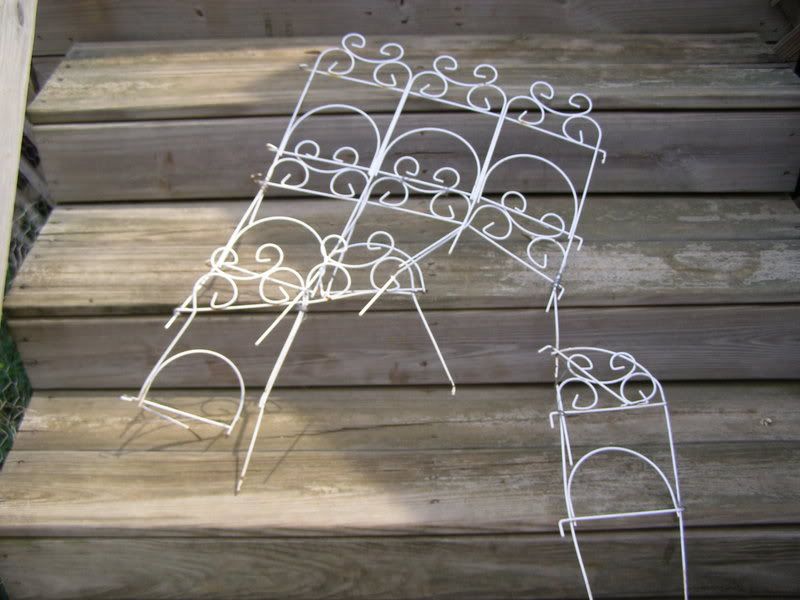 Nice eh?
I try to use things that I already have laying around here. I keep pieces of fence and things of that nature. I had this piece of fence left over from where I had made the pigs pen when we first got them. Perfect. Tall enough and everything. I cut a small entryway at the bottom. It didnt take long, and somehow Troy had figured out how to get through it. How he managed it, I don't know. I didnt see him do it, but he did. The fencing was to bendable so he was able to push through and bend it inward.
I stood there, thinking. Necessity is the mother of invention they say.
I have this little carrying cage I got with two other nicer cages a while back from a friend of mines sister. It was just a small old rusty cage that I never used for anything, but I kept it anyway.
Thinking about it...and came up with this. It already had a door in the front of it, so I cut out a door on the backside of it. I then attached the cage to the fencing the goat had pushed through, matching up that little cut doorway with the doorway on the little cage.
It isnt pretty, but boy is it functional! I have a solid doorway for the chickens that the goats won't get through. The chickens caught on right away to their new doorway. They just have to take turns going in and out, one at a time through the doorway. Here is what it looks like. Not fashionable, but very functional.
With everything else, feed prices are going up as well. I have to really control the feed distribution around here to try and keep the feed bill under control.
I love my goaties, but they have got to eat more grass and less feed.
I am also thinking about getting my two boys fixed. I don't think the traditional way of doing it is going to work for me. I was talking to Joe, remember he is the goat man that I bought the emus from...and he told me what I already knew about how to fix male goats.
Basicly you have a clamping tool, and you clamp a metal ring around the top of the testicles where it meets the body and it loses blood circulation and eventually they fall off.
YES, it is VERY painful. He said the first day they are rolling around on the ground putting up a real fuss. After that he says they get over it.
I can't do that.
Goats stink for a reason. If I got them fixed, they wouldnt stink. The boys pee on their beards...Joe says its to get themselves ready for rut. Thats the stink, the pee on the beards.
These boys have no girls, but they still are wanting to go into rut. They stink, and they are getting on the emus nerves. They don't hurt the emus but they stick their faces in the emus tail feathers and snort and snuff and now Troy is putting his feet up on them. Eddie is not so bad. I haven't seem him do any of that, but he still smells. The smell doesnt bother me as much as their behavior towards the emus. I realize eventually the emus will be so big the little pygmy goats won't be able to bother them, but right now its annoying.
I do think the boys would be better pets if they are fixed.
We don't have the money right now, so either way it will have to wait. I am going to have them neutered by a vet though. I know it will cost, but I think its the better way. I do love my goat boys and I don't want to cause them any undue pain.