I made an entry...and get this...I was CUT OFF from AOL! I am on DSL...not dial up. It happened three times! So this is coming to you via word pad...cut and paste style, just in case, so I don't lose everything I typed...again.
So, lets go back a week and start from there. I got up at 4:30 am to get ready to hit the road to Sherrys. I was so excited I couldn't go to sleep and only ended up sleeping like three and a half hours! I later found out Sherry was the same way, she couldnt get to sleep either because she was so excited that I was coming. Its always like that for me though, I just get worked up and my mind is racing about the next day and I can't shut down. I woke up at three thirty and tried sleeping another hour, with no success. When the alarm went off I was still awake. I got up and got myself ready, showered, makeup, hair done, the whole works. I don't do the make up and hair unless I am going somewhere. I got the pigs fed, in the dark. They were ready too. They are always ready to eat. I got the food out for the emus and goats. They weren't up yet, but I know they found their breakfast when it got daylight. I wanted to get on the road by 6, but as usual, I get a late start. I wasn't going to sweat it too much. This was a fun leisurely trip, not a stressful on time thing.
It was a nice ride down Hwy27. Not a lot of traffic, but then there never is. Its just a two lane highway out in the middle of nowhere most of the time except through Carrollton. There was a chance of rain, but it seemed to be holding off for me. I did go from partly cloudy skies up near home to cloudy by the time I got down to Lagrange. I decided to hit I185 and cut off a little time instead of going 27 the whole way. I got there about 9:50 am.
There was much hugging and we were both so happy to see each other. Sherry and I have been friends since we were thirteen years old. We have been through good, bad and downright ugly, and still we have come through still best friends through it all. We can go for months without talking and just pick right up where we left off like it was yesterday. I love that about us. We tell each other things that no one else knows, nor would we ever tell anyone else these things. I do love her very much.
I got in the door and you know the first thing I had to do was see that new baby. :) She was sitting in her pink bouncy seat looking so pretty. Sherry got her out and I held her a lotwhile I was there I have to tell you. She is such a good baby. Her name is Rebecca Lynn.
I had been buying a pack of diapers a week when we went to Walmart each week to get groceries. I ended up with three packs of 50 size 2s to take to her. She was so surprised. Turns out she was just finishing up size 1s and she said they were really too small so the size 2s were welcome by Rebecca and Sherry both. I remember that was such a burden on the grocery bill having to buy diapers every week when Shelby was little. I told her I knew she probably had more than enough clothes and I had already sent a package to her a couple of months back with some things in there that she still needed like bibs and onesies.
We sat around all morning and played with Rebecca, and I fed her and changed her diaper and we talked our heads off of course. ;) Here are a few pictures from that morning...in that one pic Rebecca has her size 2s on and seems to love the extra room.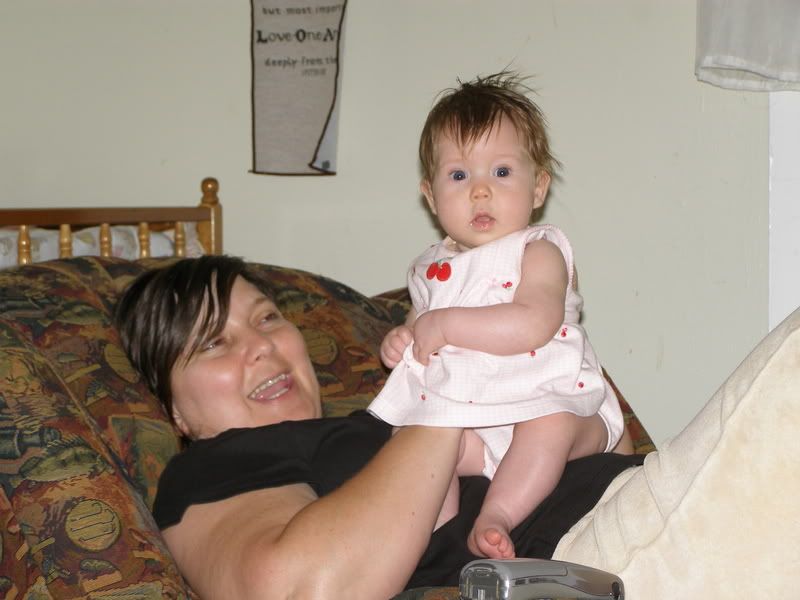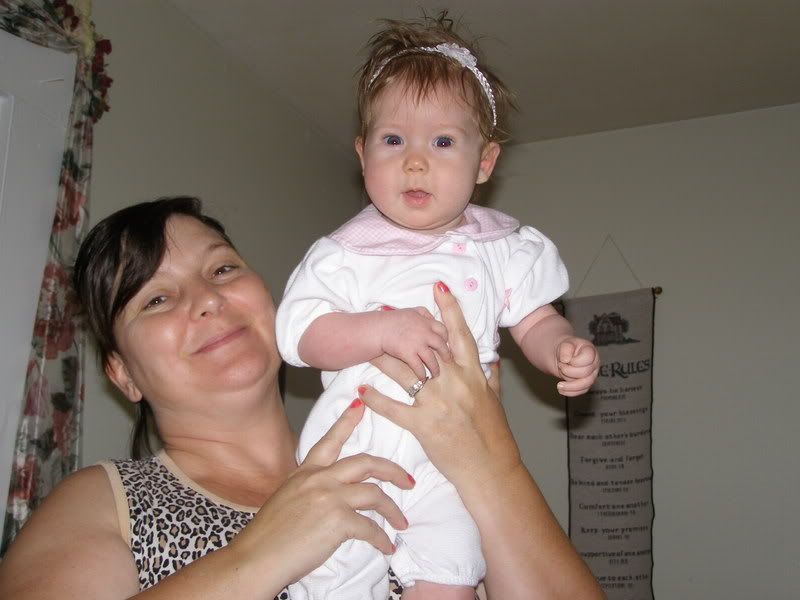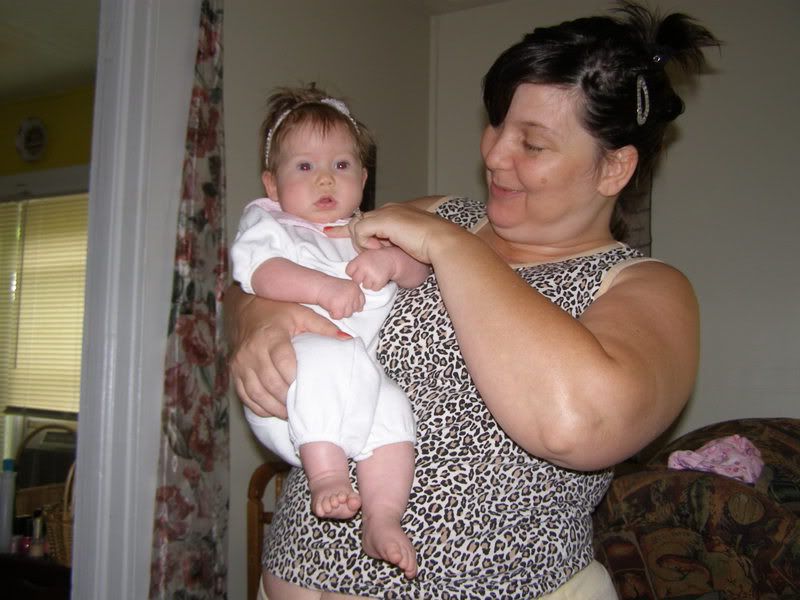 More on my next entry...