How time is fun when your having flies...oh I mean how time flies when your having fun. ;)
The summer days outside have me daydreaming and sitting with my animals a lot. It hasnt been so hot lately, in the 80s.
I will be feeding and watering a pen and end up sitting there watching them for the longest time...then I will move on to the next pen. Everyone is so happy when its warm and sunny and I like to watch them being happy, it makes me happy.
Monday and Tuesday Ian was off from work so I wasnt on the computer. Monday evening we went to Alabama to FireworksCity where we have been going for over twenty years now to get our fireworks for July 4th. We got more than we have ever gotten. They dont just have those little carry baskets now..they have BUGGIES. So I got one...and filled it up. I didnt really mean to get as much as I did, but Ian said it was okay that it would be fun. Ian unloaded all of the fireworks out of the bags and onto the table, and here is what it looked like. Took that second picture so you could see there was stuff BEHIND the stuff in the first picture.
Now don't go worrying that we are going to blow our hands off...we are after all adults and we are careful. Ian is the one that does the lighting anyway. We do it on the driveway down some away from the house. Our driveway is so long it is a good place to do it and everyone just sits up towards the house and watches the show.
Look what I found at Walmart. I had to have it. I mean, it WAS on clearance. Originally 30 dollars it was on sale for 15. If you tried to buy something like this at Tractor Supply the thing would be at least 40 dollars. I set it by the front door.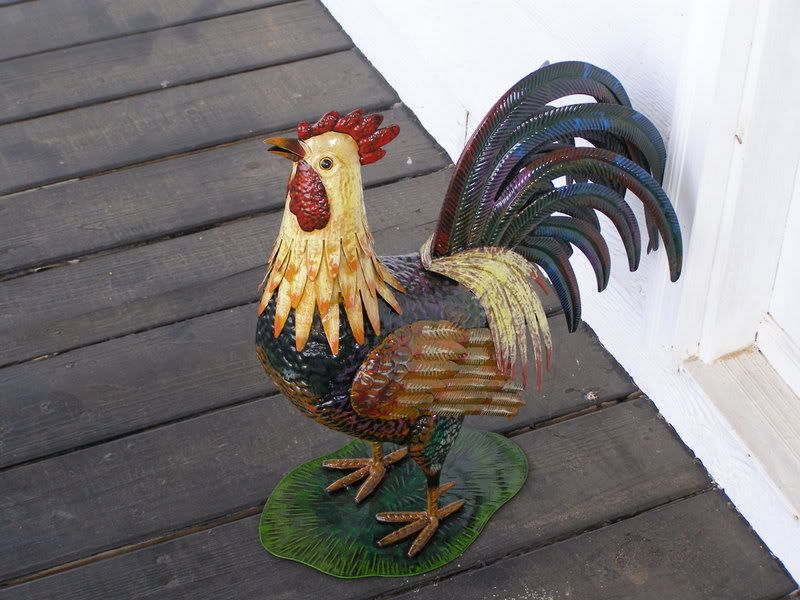 Mocha is doing better. I don't think she was weaned long at all...if at all. It took her two days to finally eat canned food. I supplemented it with milk because she had to be hungry. She is eating more can food now.
She had a place on the side of her face that got infected even though I put antibiotic ointment on it. Anyone that has had cats knows cat wounds are always so nasty for some reason. It had pus in it and I am treating that now. She doesnt seem to even notice. She is using her foot and leg more, but still not completely. She really is a sweet cat. She loves all the attention anyone will give her. She has the longest meow...so long I was able to get a picture of her with her mouth wide open...
Friday is right around the corner and it is time to celebrate our Independence. The way things are going, I have to say, I don't feel as independent as I used to. The government is going to protect us from everything. There is NAIS, that is mandantory tagging of all livestock, or you will be fined out the wazoo. Doesnt matter if you have one chicken or a hundred. Then they can come in and take your land if they think it can be better used for something else. Thats scary. We pay and pay and pay in so many different ways..but I dont think we are getting our moneys worth.
ANYWAY....I wont keep on about that. Doesnt really matter anyway cause we are all going to be sucked into a black hole come August anyway. For those that havent heard there are some scientists that are about to turn on a machine they invented to find dark matter in space. There is a small chance that things could go wrong. We will never know it if it does happen. We will just be gone. Read about it here..http://www.straight.com/article-145556/end-world
I dont want to know something so badly that it may kill us all and end our existance, but hey, I am just a nobody and don't have a say in that decision.
We are going to be having plenty of company come Friday so I better get going and get the house looking nice. I have to have everything looking good when we have company. They might not even notice, but I feel better about it. ;)
Carrie, I don't know if I ever showed you this, but this is what I do with my feathers from all my chickens when they fall out and I find one that still looks good. I add them to this...
It has a styrofoam block in the basket and I just keep adding them in..
I intend on being pretty busy from the time I get up from this chair until after the weekend...so I want to wish you all a Happy Fourth of July and will be back Monday. See y'all then! :)