Thankyou all, so much. For making me feel comfortable and not so embarrassed. Your words mean a lot to me. In this country, these days being overweight is increasingly common, yet it is shunned like you have a disease and must do your best to get rid of it. No one wants to be overweight, its just the way it is. My Mama always says, just think, if we were all alike how boring that would be. So thankyou for allowing be to be me, visually.
So how hot is it? Its sweltering. I need to grow a set of gills to breathe outside. The temperature is 96, but the heat index is 115, and yes, it feels all of 115 to me. If your not in a pool, there is no reason to be outside. Its just brutal.
This is the position most commonly seen during the first hour the chickens are let out. My babies, they are just so happy when I let them out. I am beginning to relax some now and not be so fearful of more attacks. I am not seeing any evidence of any predators left hanging around waiting for a meal since Ian shot that fox.
Our garden is a wash. I dont know what this weed is that you see, but it is prolific and grows like mad. The pigs like it, so I pull a lot of it up and feed it to them every day.
Down in the ground there somewhere are red potatoes. I want Ian to dig them up so we can at least have those. Last year we had such a bounty. I was canning and pickling like mad and had so much to work with. This year it was just not meant to be.
One of my sweet old girls below..they are my first babies I ever raised. She is a speckled sussex. Just hanging out with me while I take pictures. She is six years old now.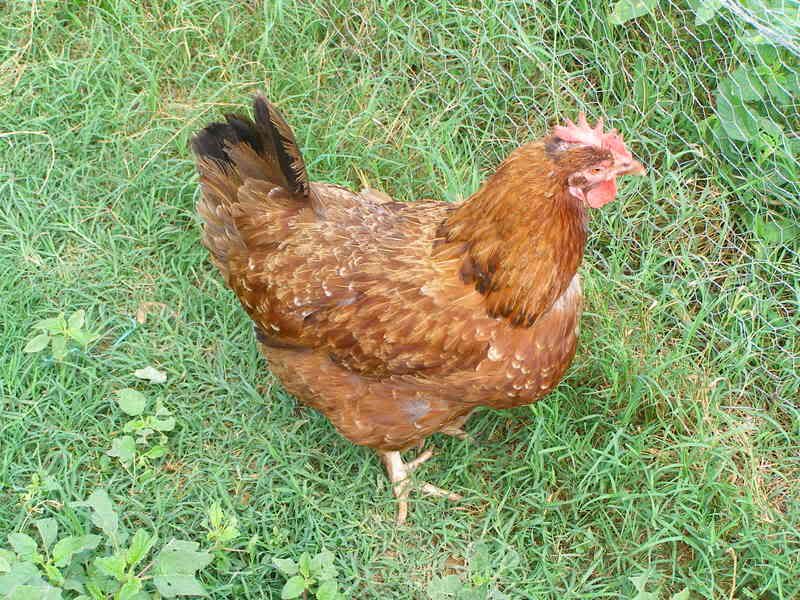 A couple of weeks ago I took the americauna girls and the big yellow girl out of the grow pen and put them in with the layers. After a week cooped with the established hens and roosters everything has settled down and everyone is getting along better. Hank knows his breed, he is already mating some of these young ladies. They should start laying soon now. Its so hot they may hold off til September. They are very friendly and come right up to me, standing all around me while I took pictures so I sat on the ground with them and spent some time showing them to pluck the grass and eat it. Two of them caught on right away. They are used to being fed only feed, so they have to learn to forage now along with getting feed. Thats what makes the eggs so rich in the yolk.
Caught in mid scratch there...putting her foot down.
I have a couple of pictures of my hibiscus. Two of the plants dont have an open bloom on them today, but here are the two that did. The first one is called a double dip. I have another plant that is a double dip that has red flowers too. The second is a more traditional hibiscus. Here are the flowers.
Good old Hank down below. The white americauna is his best girlfriend. He loves her...too much sometimes.
Chanteclear got a little too close to suit Hank, so he assumes the stance after running at him, warning him to keep his distance from his harem.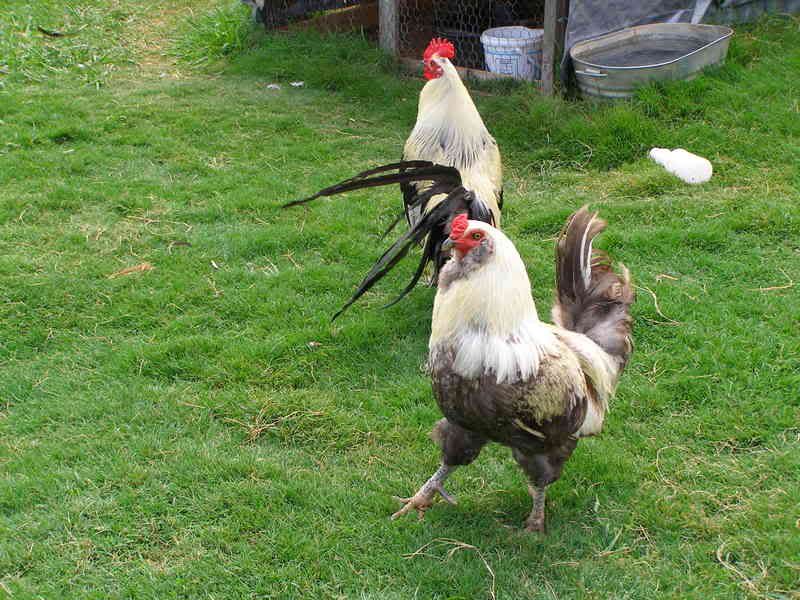 More pictures loading...will stop this entry and make another with more pictures this afternoon. Try to stay cool wherever you are. Its not suitable for man or beast out there today.