Wow has it been a week since I have made an entry? I guess it has. The days are so busy now. I want to make an entry about this and that, but time just gets away from me. We have two weeks left of homeschool and then I should have some time for myself. I have just been so busy with all the babies and all the animals in general.
I hope everyone had a great Mothers Day. We had a quiet one here at home. Saturday Ian and I went out to Lowes and got some tomato plants for me and he got a purple bell pepper plant.
I have been looking for a new sectional for the living room for some time now. I have discovered that the new style is the old 70s looking furniture along with the drab colors. You cant find anything with floral patterns. It is all paisley type designs or just solid colors, and I use the term colors loosely. You will find any shade of brown you can think of, or any drab green, no hunter green, just drab dulled out dirty looking old green, like a dirty sage.
There is an independent furniture store across from the Lowes. We decided just to drop in to see what they had. I never expected to actually find anything. There was a floral couch and love seat in the corner. I went to look at it, but it was stiff as a board, no give at all. I didnt really want two pieces anyway, I want a sectional.
The sectional we have now...we have had for about six years. I found it at a yard sale out in the middle of nowhere one day browsing around looking for houses before we found this one. The guy was cleaning out his garage. He had a dining room set, a bedroom set, and a sectional. I couldnt fit them all in the back of the truck, but we needed a couch, so I took the three piece behemoth...for a whopping twenty bucks. I think we have gotten our moneys worth out of it, and the cats got their claws worth on the front corners also, unfortunately. I will have to take a picture of it for posterity today before we haul it out the door.
We dont buy big stuff often. It has a scary effect on Ian, he almost gets nauseous and sweaty at the thought of spending a lot at once. When we bought that truck that about sent him overthe edge...lol.
So anyway, back to the new sectional. There was a very plush one at this furniture store. Very very comfortable. Very nice. I didnt even mind the color. It wasnt what I thought I would have settled on, but we both really loved it. It has four recliners in it, and it sits like a dream. This is probably the best and most expensive piece of furniture we have ever bought, or ever will buy.
I think now that we have NO cats, and no small child to bounce on it and spill things on it, it should last a long time. The lady at the store showed us something really neat too. She took a swatch of the fabric off the sample rack that the sectional is made from and poured her Taco Bell cup of coke on the fabric. It just beaded up and sat there on top of the material! It didnt soak in, and it just rolls right off. Amazing. We need that at our house.
So anyway, I found a picture of the sectional online...here it is.
The chicks are all doing well...I am done putting eggs in the incubator for this year...there are still probably fifteen or so eggs in there developing.
There is a very large storm coming this way...right now it is covering all of Mississippi and half of Alabama, so I have to get on outside and get the animals fed early. Once it starts I think its going to be here for a while pouring down it looks like.
The mower is also sitting in the middle of the front yard where I ran out of gas yesterday..and I really need to finish that half before the rain gets here, so I am going to go get some gas in the can too.
I modified the pool deck so there will be no more pooping on the deck. Will have to take some pictures. I know I have been slack in that area. I still want to get pictures of all the new babies hatched and update on all the ones out in the grow pen.
I have afeeling the rain is going to really limit my outdoor picture taking today. We will see. Right now I am going to get up and get moving before we get that rain thats heading this way.
I hope everyone is having a good Thursday. I will be back as soon as I can. Things have just been so busy every day here.
I leave you with this picture I found...on someone elses site, and I cant remember for the life of me where...or I would give credit to them. This just struck me as SO funny! The caption read
WHAT MICE? under the picture...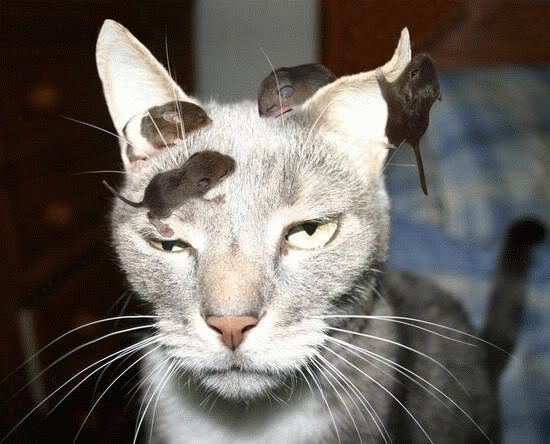 Here is the radar image for this morning...